NuOrder
Inventory Management for NuOrder
See how NuOrder users can use ApparelMagic inventory and ERP software to build their business.
ApparelMagic & the NuOrder Integration
NuORDER's integration to ApparelMagic gives brands the power of wholesale eCommerce. You can sync products, customers, and inventory from ApparelMagic to NuORDER, and orders from NuORDER to ApparelMagic, maintaining accurate and up-to-date records on your B2B eCommerce site.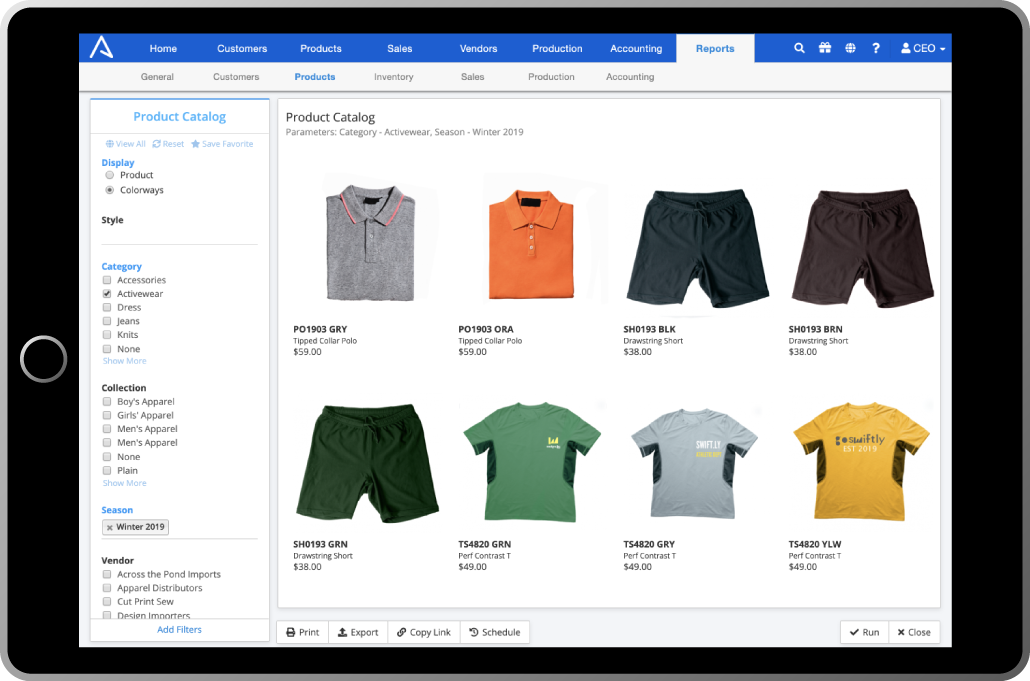 ApparelMagic isn't just any inventory app: it's the best fully-integrated operations software made expressly for fashion.
Designed to deal with size ranges and multiple colorways, ApparelMagic is ready to showcase your products like never before. Unlike the competitors, ApparelMagic allows unlimited images and files for every product. It's designed to give every client, from beginner to power user, full data visibility in a streamlined, intuitive experience.
We're not just NuOrder experts. As the hub behind so many fashion brands, ApparelMagic integrates with fashion's favorite services:
Improve your direct-to-consumer ecommerce with integrations to Shopify and Amazon.
Keep on top of financials with QuickBooks Online, Xero, and factor access.
Send your orders off with quality 3PL and ShipStation, Shipvine, and more.
All listed integrations are included with the Ultimate Plan.
Select any five with the Enterprise Plan.
Select any three with the Professional Plan.
Or select one integration with the Basic Plan.
All integrations through Extensiv (previously CartRover) count as a single integration.
All product logos and company names are trademarks™ or registered® trademarks of their respective holders and no affiliation or endorsement is implied. Third-party providers may charge for their software, integrations or services. ApparelMagic is not responsible for the performance of third-party solutions or integrations. Only integration or access options are shown. Integrations and access options subject to change. Third-party software and services sold separately.
Basic
Just the essentials for your small & growing business
Professional
Manufacturing project management made simple
Enterprise
Grow your business with customization and automation
Ultimate
Connect to all your favorite providers and services