Mark Calder is no rookie in the menswear game. From stock boy for a haberdasher to creative director of a luxury menswear brand, he has spent decades refining his craft and distilling it into the perfect luxury sport shirts.
In 2018, he put his years of experience center stage when he launched his own shirting line, Calder Carmel, with his merchandising and production manager Kristina Stuckenbrock.
The driving force of the brand isn't anything new, but it's something far too hard to find in today's market.
"The quality will last you forever," Stuckenbrock says. "We buy from the same mills as top Italian brands, and we use the highest quality fabrics and materials."
And as if that Italian quality isn't enough, the design too is special, using exclusively-designed fabrics, unlike the competition, most of whom buy a mill's collection as-is.
This attention to detail is making a mark. Just two years in business, and they've already sold almost 20,000 shirts! The real secret to their success though goes back to the basics: forming positive, sustainable relationships.
"We're partnering with the best retailers across the United States," Stuckenbrock says. "Some of them have been in business for a hundred years. They really know their customer."
And that knowledge is key. Calder's business strategy is to let retailers do what they do best and provide them with the best products possible, showing real loyalty in the process.
"We really believe in partnering with our customers to sell our product," Stuckenbrock says. "We've taken the position that we don't want to sell online because we don't want to compete with our customers."
While direct-to-consumer sales are many brands' preferred pivot, this one has its own strategy that precisely suits its market.
"We've taken the approach that if we partner with our customers, we're hoping to gain more market share within their stores because they know we're not going to be coming up with a fifty-percent-off sale in the middle of November."
That loyalty goes both ways, and already men are learning about the brand from their favorite specialty stores and becoming repeat customers.
"What's really exciting is when we hear about how customers in store are reacting to it." Stuckenbrock says. "We have some dedicated Calder customers now that they call on anytime our shirts arrive!"
Even during 2020's retail struggles, Calder Carmel worked with their retailers to help them get through a difficult time. Whether it was sending them extra collection photos they could use promoting online, extending payment terms, or shifting delivery dates.
And you know what? It's worked out. Customers reported their best sell-through numbers this past Fall, even with reduced foot traffic, and some styles even had to be reordered from factories—during a pandemic!
"For this terrible year, we had a positive end to it," Stuckenbrock says. "We're confident that we're going to be able to get back to where we were and see some more increases."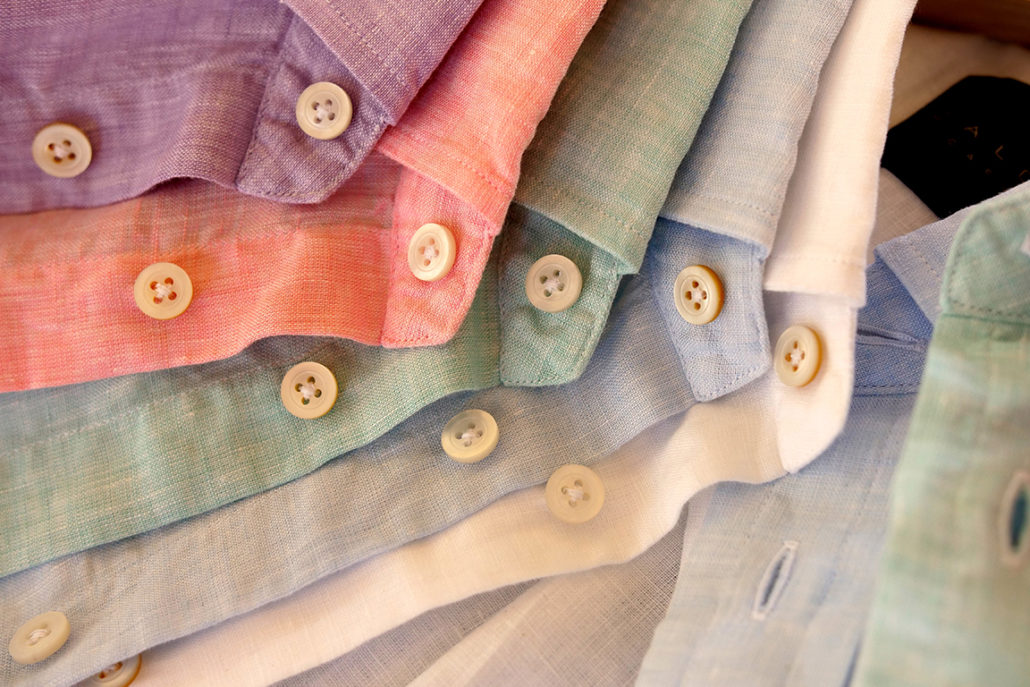 Alongside their dedicated relationships with retailers and mills, Calder Carmel has been powered by ApparelMagic. For a small team of two, it's an essential service to get work done efficiently and accurately.
"ApparelMagic helps me do the work of ten people, really," Stuckenbrock says. "What a gamechanger it's been for us to easily access information so quickly. We don't have time to be sorting through Excel documents all the time. When I get a call from a customer, I can tell them what our inventory is."
And for an era when what can go wrong will go wrong, ApparelMagic has a whole suite of tools to keep businesses on track.
"Without ApparelMagic, we would not be able to instantly report on overdue invoices, upcoming payables, and the many pending orders in the system that remain to be filled," Stuckenbrock says. "It is truly a lifeline that I am very grateful to have!"